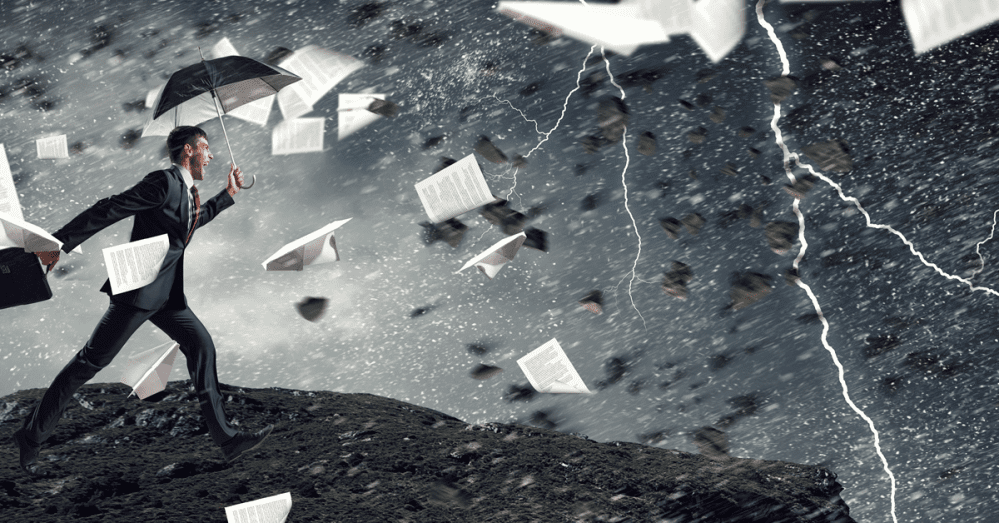 A Simple Disaster Recovery Plan For Your Small Business
When you're running a business, there's no shortage of things to worry about – competitors, customers, inventory, staffing — and a whole lot of other day-to-day worries. According to a recent insurance report, the top three "big picture" small business risks are:
Liability risks
Property risks
Business interruption risks

If you think about it, any major natural disaster – flood, hurricane, earthquake, wildfire – could instantly hit your business with two of the three. Of course, that's the key… thinking about it ahead of time.

It's all about planning
To paraphrase Rocky Balboa…
"It's not about how hard you get hit… it's about how hard you can get hit and keep moving forward; how much you can take and keep moving forward."
A recent global survey by DRI International said that a "lack of crisis management expertise among top executives" was the leading risk for organizations in 2019.
Here are three quick articles from our friends at the SBA (Small Business Administration) and FEMA (Federal Emergency Management Agency) that we highly recommend for all small business owners, to help make sure you're ready if… or when disaster strikes:
"Seven Ways to Start Your Business Continuity Plan" – simple steps to take before disaster happens
"Small Business Natural Disaster Checklist" – a quick one-sheet with the necessary contact information you should have in one place
"Preparedness Checklist and Tools" – a laundry list of information you can use to assess your readiness and outlines of the necessary steps you should take before and after an emergency.

There is financial help available
After a disaster strikes, there are places you can turn for the funds you need to bounce back. In FY 2018, the SBA, for example, processed 49,300 business disaster loan applications. It can be a little confusing, since the Small Business Administration doesn't actually provide funding to small businesses – but what it does do is guarantee up to 85% of the SBA disaster loan amount so the risk to lenders is lower and the borrower's chance of approval is higher.
If you don't have the assets to use as collateral for a disaster loan, you can look into an unsecured emergency loan – emergency loans that don't require borrowers to use assets as security.
If you don't have one already, you should check with your local bank about a business line of credit – a flexible way to get necessary funds in the best of times, it can be a real business-saver in bad times.

The time to plan is now
Surviving a disaster is all about having a disaster recovery plan in place in that will get you back in business – fast! According to FEMA, 90% of businesses that don't reopen within five days of a disaster will fail within a year.
Check out the links above and take the steps you need to prepare for a disaster – a few simple steps before a disaster strikes can make all the difference after one hits your business.

Sources:
Business Disaster Recovery: How to Create a Business Disaster Recovery Plan
Make Your Business Resilient
Seven Tips To Help Your Small Business Recover From Hurricane Damage