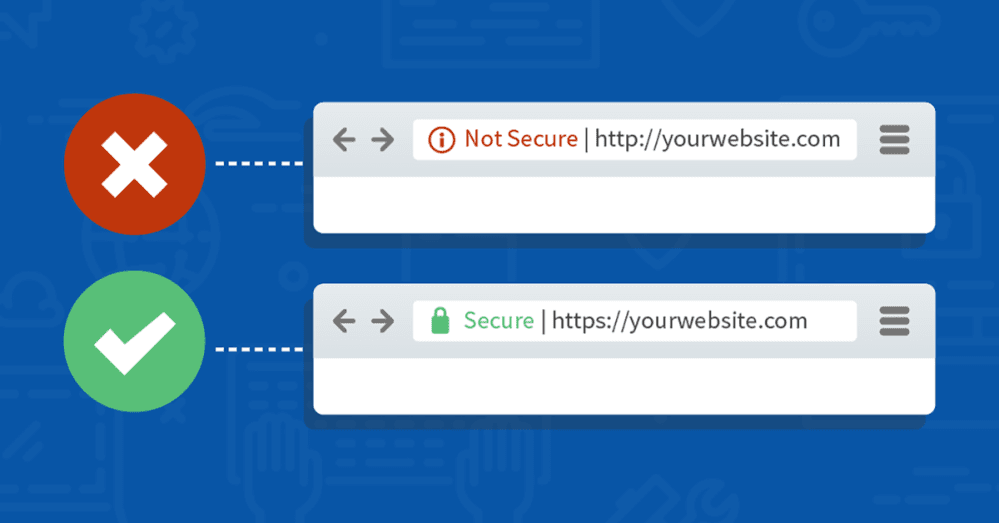 Why having a secure website is so important to your small business
You can't talk about digital marketing and websites today without talking about privacy and security — and you shouldn't! Almost 33% of all websites have inadequate security, and you can't afford to let yours be one of them.
Making your customers feel safe and confident about interacting with your business online needs to be a priority, and that starts with making sure your business website is a secure site with SSL / HTTPS.
What is an SSL / HTTPS secure site?
You can see a technical description at the bottom of this post, but here's the short version — if your URL starts with "https" and you see a padlock icon in your browser's address bar, you're probably using an SSL certificate… which means any personal, financial or otherwise sensitive data that your customers share with you on your site is encrypted, protected and secure.
You and your customers probably use secure sites every day (like Google, Facebook, Amazon, eBay or PayPal). These sites protect your information whenever you:
Log into a site like your personal or work email
Fill out a form with personal information like your name, email address and phone number
Share any kind of private data online, like your social security number or a credit card number

So really, think of a secure site (and the "https" that comes with it) like an A+ rating from the Better Business Bureau or a business license. An SSL certificate… the padlock… and the "s" is a label that tells your customers that they can trust your site — and by extension, your business.
[Related: What a Small Business Website Needs Today]
3 reasons why your business website must be secure
Nick Hopkins, Hibu's Associate Vice President of Digital Products, explains why a secure site is so essential to your digital marketing plan today:
1) A secure site builds your customers' trust
"SSL protects any information your customers are sharing with you – even if it's just their name, phone number and email address. And if you collect payments or give your customers the ability to log in to your site, a secure site is a must to make sure their passwords and other sensitive information stays safe. It's just the right thing to do in this day and age where digital security is paramount."
2) A secure site meets Google's latest standards
"Consumers are increasingly more reluctant to interact with websites that are not secure. Google is going to step this up by explicitly labeling non-SSL sites as "Not secure"…and it probably won't be long before non-secure sites are ranked lower by Google and other digital players (think Facebook, Bing)."
3) A secure site is good for your business
"If you don't have an SSL-secured website, you're putting your business at a disadvantage. Your site could become harder to find…and customers who do find it will be less likely to engage. If you don't have a secure site already, this is the time to do it. Why hand your competitors an advantage that's so easy to avoid?"
Secure your digital marketing foundation with a secure website
From encouraging your customers to interact and transact with you online…to keeping up with Google's efforts to highlight secure sites…to just doing the right thing for your customers and their information — making sure your business website is SSL / HTTPS secure has never been more important. Now is the perfect time to install an SSL certificate to protect your website and start creating a secure onsite experience for your visitors.
Hibu has been building SSL / HTTPS secure websites for small businesses since 2017. We know how important your customers' security is to you (and them!)…and the difference a secure site can make in your customers' perception of your business.
The technical side of SSL / HTTPS
SSL ("secure sockets layer") refer to the digital certificate that "authenticates [your] website, proving that it really is the website it claims to be and not hackers posing as that website. A website with an SSL certificate will have HTTPS in the URL, which is a combination of HTTP and SSL."1
1 https://www.makeuseof.com/tag/ssl-certificate-need-one/