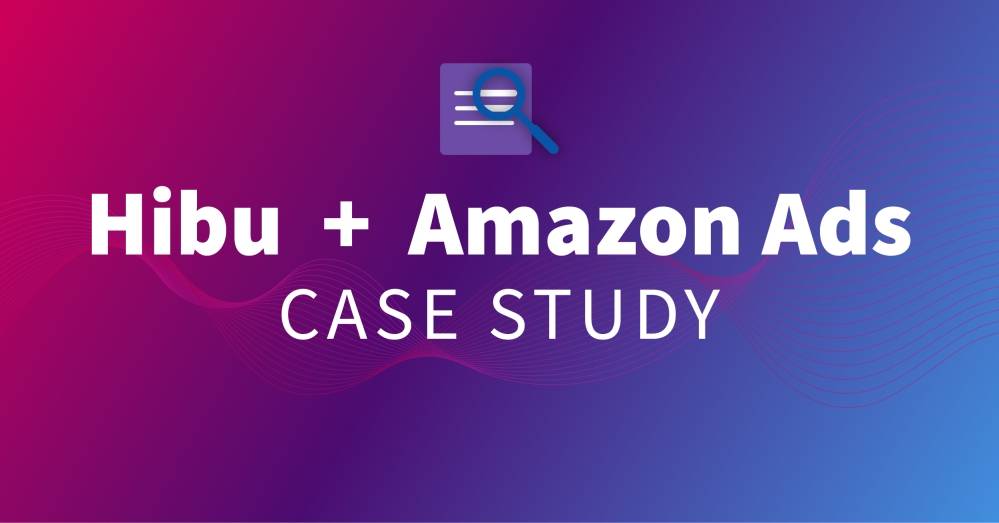 Hibu Delivers Even More Value by Adding Amazon Sponsored Display to its Solutions
Hibu Inc. is a leading provider of innovative digital marketing solutions to small- and medium-sized businesses across the United States. Hibu's proprietary technology platform seamlessly integrates best-in-class digital marketing services. It leverages AI and machine learning, performance optimization and real-time notification features, to create powerful synchronized digital marketing programs that help clients drive leads, manage those leads, and convert them into valued customers.
Hibu is constantly exploring new capabilities to add to their Solutions, looking for ever-better ways to help their SMB clients attract, convert, and retain customers and to deliver outstanding results and ROI.
Starting in mid-2023, Hibu had the opportunity to collaborate with Amazon Ads to test Sponsored Display with a group of Hibu clients that do not sell in the Amazon store. Sponsored Display utilizes Amazon Ads' rich audience insights built from shopping and streaming signals, advanced machine learning technology to engage audiences across a wide range of owned-and-operated and third-party sites.
Sponsored Display has long been used by businesses that sell on Amazon, but has recently been in Beta for businesses not selling in the Amazon store – including many of the types of local businesses that Hibu specializes in helping, such as home services contractors, consumer services, automotive services, and travel and hospitality.
"As we extend Sponsored Display to small businesses that do not sell in our store, we're excited to work with Hibu to launch campaigns for their clients – many of which are local small- and medium-sized businesses. We look forward to continuing our work with Hibu to help their small business clients succeed and grow with the expanded availability of Sponsored Display."
— Emanuele Borroni, Director, Sponsored Display
Even more marketing power for local businesses
Hibu's clients' marketing objectives are primarily aimed at generating high-quality leads for their local businesses, so testing focused on measuring lift in lead volume and reduction in Cost per Lead.
Hibu tested Sponsored Display by adding it to its current digital marketing programs for a select group of home services clients (e.g., electricians, plumbers, painters) across the country. Hibu's Solution provides and manages the entire digital marketing program for these clients, including their website, other online presence such as their Google Business Profile page and Facebook page, and their digital advertising. This includes lead tracking across all relevant digital channels, for both paid and organic traffic, to give a complete view of marketing results.
The addition of Sponsored Display to the Hibu Solution for these clients increased already impressive results.
Sponsored Display helps drive leads and reduce cost per lead
The Sponsored Display campaigns for the Hibu clients reached a mix of relevant In-Market and Lifestyle audiences, including consumers interested in Home & Kitchen, Home Improvement, and Home Automation. Specific audiences varied by campaign based on each SMB's vertical and objectives.
The test period for Sponsored Display was approximately two months per campaign, and results were compared to the month preceding the test period. Through the test period, when running the Sponsored Display campaigns, Hibu saw the following results1…
Collectively, the Sponsored Display campaigns delivered over 30 million impressions and tens of thousands of clicks, with little or no bot traffic observed. Across the participating SMB clients, the addition of Sponsored Display to the Hibu digital marketing Solution contributed to an overall 14.8% reduction in Cost per Lead across the group, with an average 16% lift in lead volume. Nearly two thirds of the SMBs saw a material decrease in Cost per Lead. The overall group also saw an average 22% increase in website conversion rates (engagements vs visits), reinforcing the high quality of traffic driven by the Sponsored Display campaigns. 1
Hibu's test shows the addition of Sponsored Display to an already robust Hibu digital marketing Solution can drive incremental leads and reduce cost per lead. Based on these powerful results, Hibu is continuing to scale its testing while working with Amazon Ads to incorporate Sponsored Display into its Hibu Solutions over the coming year.
"Amazon Ads has great shopping insights to utilize in building audiences for digital advertising. When the Amazon Ads team approached Hibu, we saw the potential for bringing these rich audience capabilities to the tens of thousands of SMBs we partner with across the US. Our early testing has validated our initial optimism, and we're excited to move forward with Sponsored Display to deliver even more value to our Hibu Solution clients."
— Nick Hopkins, VP of Product Strategy and Development, Hibu Inc.

For more details, take a look at our press release.
1 The test covered 30 advertisers. Impressions and Clicks metrics for Sponsored Display campaigns sourced from Sponsored Display reporting. All other metrics – lead volumes, cost per lead, and website conversion rate – are from Hibu's internal analytics and reporting systems. In connection with Hibu's participation in the Sponsored Display beta program, Hibu received Amazon Ads advertising credits to apply to its campaigns.