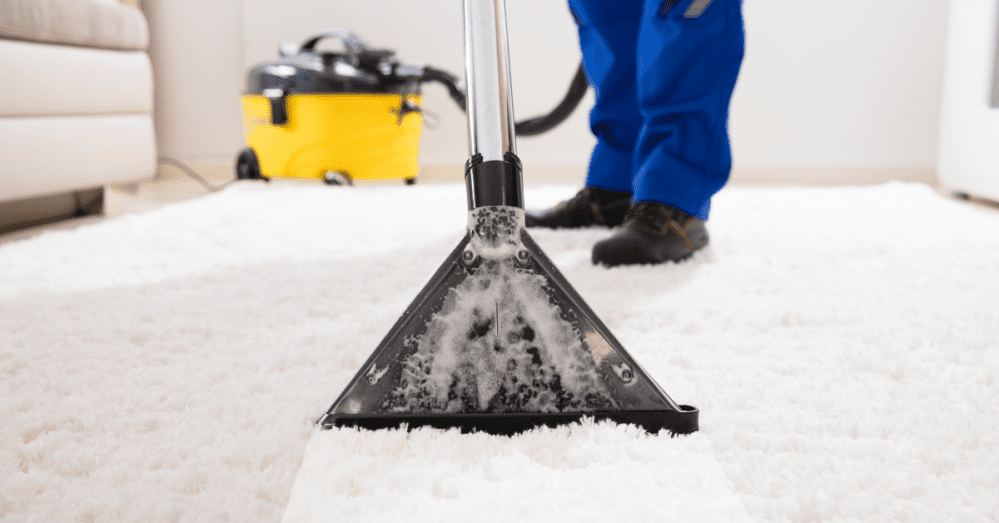 How To Market a Cleaning Business Online
Whether you offer expert cleaning services to homes or businesses, getting the word out is paramount. And with almost 3 million people working in the U.S. cleaning services industry — many of them trying to reach the same customers that you are — digital marketing is critical.
Your best bet for cleaning business marketing is promoting your business online. The web (especially Google) is where most people look for services and businesses today, so it's definitely where you should be. But what channels should you spend time (and money) on, and what are your smartest digital marketing investments?
To get you going, here's how to market a cleaning business in three steps.

Digital Marketing for Cleaning Services: Three Key Strategies
Effective digital marketing for cleaning businesses starts with making sure your local clientele can find you. And that starts with having an accurate foundation for your business online, built around three key items:
1) Your business listing(s)
2) Your website
3) Your social media account(s)

Once you establish this online foundation, you can strengthen your online presence with search engine optimization (or SEO) and targeted online ads.

1) Pair Accurate Business Listings with a Modern Website
First, you'll need official online business listings and professional website. They're the foundation of your cleaning business marketing plan because they go hand in hand.
Business Listings
A business listing is what appears in search results when clients look for nearby services — and what appears on sites like Yelp and BBB.com. That's why it's so important for your business information to be accurate and complete on all your online business listings, especially your NAP info:
Your business name
Your address
Your phone number

It's not hard to imagine a potential customer looking for your business online (maybe after a friend referred you)... calling what turns out to be the wrong number on your Google, Facebook or Foursquare listing... and looking for another cleaning service that they can contact and hire right away.
That's why finding and updating all your online business listings is so important when it comes to reaching your cleaning service target market.
Website
First things first — your website needs to look professional and be easy to use. That means:
It should be written and designed by experts – and look like it has been

It must have intuitive navigation that anticipates what your potential customers are looking for – what you do, what your rates are, reviews from previous clients, and most importantly, how to get in touch with you

It has to show why you're the best choice for them – whether they're looking for speed, savings or service

Your cleaning service website also needs to look and behave smoothly on mobile devices. As of 2021, 63% of non-ad website clicks came from mobile devices! We're all glued to our smartphones, so it makes sense that mobile-friendly websites get more traffic.
Plus, your site must work with voice search. Voice recognition is a multibillion-dollar market that only continues to grow. Think about someone at home asking Alexa "What's the best cleaning service near me?" or driving home from work and saying "Hey Google, send me contact info for the best-rated cleaning services in my area." You definitely want your business to pop up as a top choice!
And of course, even with all those features baked in, your site needs to be detailed but not cluttered and visually pleasing but not overwhelming. When you're marketing a cleaning business, your website should reflect your work standards.
2) Engage and Advertise on Social Media
Next, get your cleaning business on social media, especially Facebook (aka Meta) and Instagram.
Most platforms offer formal business accounts (or in Facebook's case, a Page). You should stay active (and in front of your social media followers) by posting regularly. A neglected account doesn't get clients' attention, let alone help you garner glowing reviews. (Hint: Those reviews help you literally everywhere else you're marketing cleaning services.)
But to reach a larger, targeted audience, you need to invest in paid social ads. Those frequent organic posts will only reach so many people, and they have to be people who are already following your Page or account. A social marketing campaign allows you to:
Target the audience you want (like residential vs commercial cleaning clients)

Reach that audience more than once as they see your ads multiple times

Set your goals — from brand awareness to website visits to form fills or calls — and see exactly how your ad campaign is delivering against those goals

3) Invest in SEO
So, your business listings and website are pristine and engaging. Your social accounts are in order, and your social ads target (and retarget) your local clients.
Now, to make sure potential clients actually see these efforts, work with your digital marketing partner for SEO services.
In a nutshell, SEO involves using keywords and phrases that point to your website to increase your ranking in the search results. Some of this happens on your website and listings...and some of it is done behind the scenes in the code. Ultimately, the goal of SEO is to have your business listing, website and social accounts show when local clients search for cleaning services. After all, SEO affects every other part of your cleaning business marketing efforts.
Note: Because SEO is ongoing, SEO experts regularly research what your cleaning service target market wants. They'll not only run checks but also work with ever-changing search engine algorithms, which dictate where your business ranks on Google and other search engines.
Customize Your Cleaning Business Marketing Plan With Hibu
At Hibu, we want your business to thrive. That's why we partner with you to build the cleaning service marketing plan that best fits your budget, location and goals.
When appropriate, we'll recommend other solutions that boost your business, like display ads, search ads and marketing automation. And when you're ready, we can help you seize the power of client reviews and manage your online reputation.
Rest assured that we know exactly how to market a cleaning service business, no matter your niche or scope. In other words, we've got your back. Let's get started and watch those client numbers rise!
Give us a call at 877-237-6120 or complete our Get Started form. One of our digital marketing specialists will be in touch!