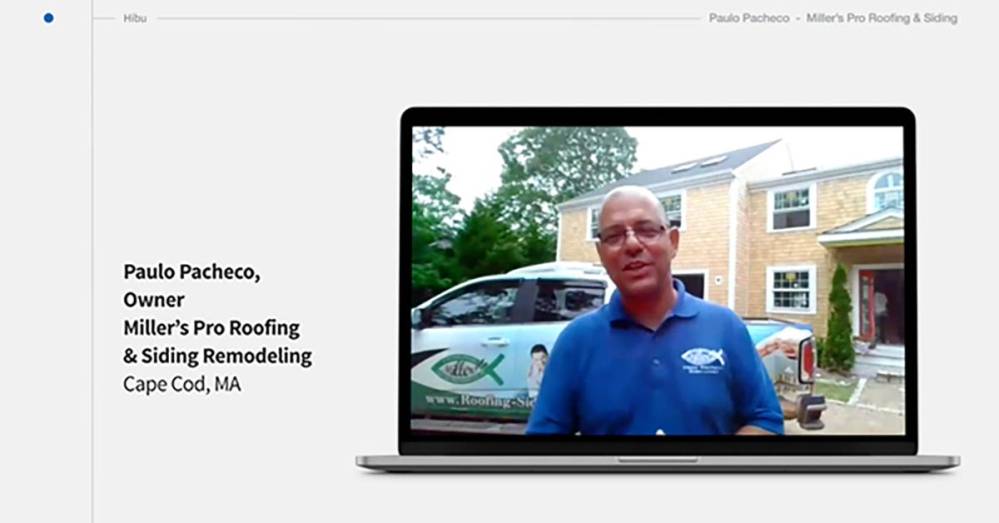 Hibu Client Conversation – Miller's Pro Roofing & Siding with Paulo Pacheco
We sat down for a spirited, upbeat, virtual conversation with Paulo Pacheco, Co-Owner of Miller's Roofing and Siding Remodeling in Cape Cod, MA. Paulo was excited to share the success Miller's Roofing has had working with Hibu.
Paulo discusses working with his local Hibu Rep to generate the one thing all businesses need… leads! "We want more," Paulo says with a smile, "we always want more. Who doesn't want more?" Take a couple minutes and watch right now…
[Video transcript]
My name is Paolo Pacheco I'm owner of Miller's Pro Roofing and Remodeling together with Chris Miller. We're in the business for 27 years. We got divisions of a different types of businesses – Miller has also pool, Miller has also landscaping.
Everybody in this time, I got to be very honest, it's hard to find a good marketing company. And we're trying to find a marketing company for a long time – one that actually can meet our needs. Everybody tells us they're the best. Everybody can do everything. But bring real leads – that I can tell Hibu can do it.
I think the strategy you guys presented to us, that Hibu presented to us, was what convinced me to go in that direction. We were actually looking for more leads, and you guys proved to us it was not being done properly.
Of course, we target Cape Cod — so far, that's the idea with Hibu. This is just the beginning. It's working well. We're getting several leads now per day. But I said, well, but we need more – we need more. Always we want more! Who doesn't want more? Right?
Hibu is making our name out there. Because you guys are basically showing the people what we are capable to do. And this day, actually just on Saturday, someone said, "Paolo, what an amazing website – oh my god, so clear, so beautiful! It is easy to understand what your business does." We were not affected by COVID-19. Our job actually became essential work. We ended up actually doing donations for several houses. I'm never going to forget that.
The results come, you know, a couple months after you guys start the whole structure. But when it comes it comes! And it's consistent – it's just coming every single day, constantly coming, the results. That's what we're seeing right now. And it it's growing, it's growing. Just to understand… before working with Hibu, we had about four or five leads per week – [now] we're having the same amount every single day!